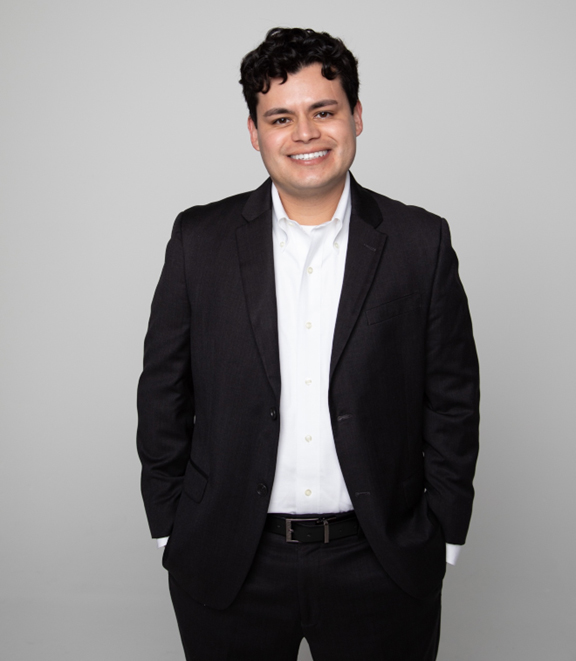 Contact Marcos Holguin

(213) 395-0956
[email protected]
Download vCard
About Marcos Rodriguez Holguin
Marcos Holguin is a Partner at SR Holguin, PC. In that capacity he represents unions at every stage and in all aspects of labor and employment law matters.

At SR Holguin, PC, Marcos serves as a Litigator, an outside General Counsel to unions, a Counselor to union officers, a Collective Bargainer, a Trainer to union officers and stewards, and an Advisor with respect to government and public affairs.

Marcos is experienced representing unions in state and federal court and before administrative agencies including the National Labor Relations Board (NLRB), United States Department of Labor (DOL), and Equal Employment Opportunity Commission (EEOC). Marcos is also experienced representing unions in elections, collective bargaining, grievances, arbitrations, discipline proceedings, internal governance, and all day-to-day operations.


Further, Marcos uses his specialized education and political expertise to represent unions before elected and appointed officials and in government and public affairs. In doing so, he advocates for and against, drafts, amends, and monitors proposed federal, state, and local statutes, regulations, and ordinances, as well as crafts persuasive messaging to support clients' positions. He also represents and advises unions' political action committees (PACs) regarding campaign finance law and all aspects of administration.

While in college, Marcos served as a Law Clerk at Holguin, Garfield, Martinez & Goldberg, APLC. During law school, Marcos served as a Law Clerk and later as a Post-Bar Law Clerk at the Los Angeles County District Attorney's Office, Major Crimes Division. While there, he assisted in the prosecution of some of Los Angeles County's most complex and high-profile cases. Marcos also gained litigation experience as a member of his law school's National Trial Team.

Early in his career, Marcos was selected as part of an exclusive group of young union-side litigators from across the country to participate in the AFL-CIO Union Lawyers Alliance's rigorous Litigation Workshop.

Marcos is a second-generation union lawyer. He was raised in a family of many generations of union members and elected officers which instilled in him the importance of organized labor and cemented his path as a union-side attorney.

When not representing unions, Marcos can often be found spending time with his dog, or at LA Dodgers baseball, UCLA Bruins football, or LA Rams football games.

Bar Admissions
State of California
District of Columbia
Supreme Court of the United States
United States District Court for the Central District of California
United States District Court for the Northern District of California
United States District Court for the Southern District of California
United States District Court for the Eastern District of California
United States District Court for the District of Columbia
United States Court of Appeals for the Ninth Circuit
United States Court of Appeals for the District of Columbia Circuit
United States Court of Appeals for the Third Circuit
United States Court of Appeals for the Fourth Circuit
United States Court of Appeals for the Eleventh Circuit
Education, Honors, and Professional Associations
Professional Associations and Honors:
AFL-CIO Union Lawyers Alliance (formerly Lawyers Coordinating Committee) Member
California Lawyers Association, Labor and Employment Law Section Member
California Political Attorneys Association
Los Angeles County Bar Association, Labor and Employment Law Section Member
Mexican American Bar Association of Los Angeles County Member
The Catholic University of America, Columbus School of Law Dean's Award, 2018
Vincent Miraglia Award for Outstanding Service to the Student Bar Association, 2018
Community Involvement:
The Catholic University of America, Columbus School of Law Alumni Council Member
South Coast Air Quality Management District (AQMD) Air Quality Management Plan Advisory Council Member
Former City of South Pasadena Animal Commissioner
ILWU Feed the Community Day Volunteer
ILWU, Local 94 Feeds COVID-19 Frontline Workers Volunteer
Education:
The Catholic University of America, Columbus School of Law, Juris Doctor with a concentration in Criminal Litigation, 2018

Student Government Vice President

The Catholic University of America, Master of Arts in Congressional and Presidential Studies, 2018
St. John's University, Bachelor of Arts cum laude in Government and Politics, 2015